THE 2020 FORD ESCAPE vs ALL THE REST

2020 SUBARU FORESTER vs 2020 FORD ESCAPE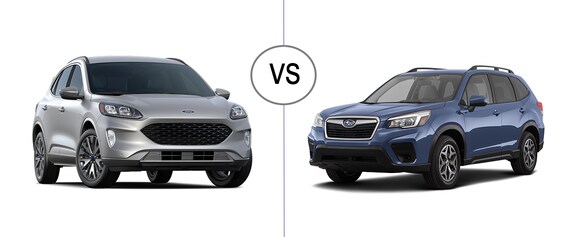 Available engine options: The Ford Escape offers a choice of three engines--a 2.5-liter four-cylinder, a turbocharged 1.5-liter four-cylinder, and a turbocharged 2.0-liter four-cylinder--that allow the driver to prioritize power, efficiency, or a combination of the two. Properly equipped, Escape can tow up to 2,000 pounds. The Subaru Forester offers just two engine options and can only two 1,500 pounds regardless of its power source.

Smartphone connectivity: The Ford Escape comes with Ford's Sync system as standard equipment, and is available with the new Sync 3 system with support for Apple CarPlay and Android Auto. These two technologies have not yet arrived in Subaru vehicles.

Ford MyKey: Standard in the Ford Escape is Ford's MyKey system, which allows the owner to set parameters for secondary drivers such as teens or valets. It is a great feature to have for families with young drivers, and a similar technology is not even an option in the Forester.
2020 TOYOTA RAV4 vs 2020 FORD ESCAPE


The first thing you may notice about these two vehicles is their price tag. After all, pricing is an important aspect to consider when looking to invest in a car. With the 2020 Ford Escape, you can enjoy a more affordable starting price than what the 2020 Toyota RAV4 offers you, helping ease some of the financial burden associated with investing in a vehicle.
The 2020 Ford Escape is also loaded with a variety of cutting-edge features, all of which can help elevate your driving experience on the road. Some of those features are not available with the 2020 Toyota RAV4, too. That includes features like a standard compass and a standard glovebox light, two features which are not available with the competing vehicle. Additionally, you can take advantage of available Park Assist with this Ford SUV; that feature is not available with the Toyota competitor. Plus, you can enjoy 6 speakers in the Ford SUV, while the Toyota model only has 4. You can utilize 3 12-Volt DC Power Outlets, while the 2020 Toyota RAV4 only has 2.
For those who like to bring their trailer with them on their journeys, the 2020 Ford Escape offers an edge on the road. This SUV can handle a max trailer weight of 2,000 pounds, while the 2020 Toyota RAV4 can only handle up to 1,500 pounds.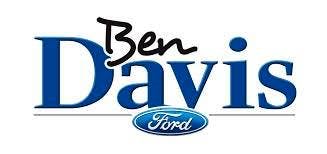 Ford Escape vs Subaru Forester
In one of the industry's most densely packed segments, the spacious, stylish, and agile Ford Escape stands tall at the top. A compact crossover available with comfortable seating for five adults, the Escape offers lots of space, an array of advanced technology, and an enjoyable performance and handling. The Escape is often compared to the Subaru Forester for offering a similar experience, but there are a few details that keep the Escape out in front.
Hours
Monday

8:30 AM - 6:00 PM

Tuesday

8:30 AM - 6:00 PM

Wednesday

8:30 AM - 6:00 PM

Thursday

8:30 AM - 6:00 PM

Friday

8:30 AM - 6:00 PM

Saturday

8:30 AM - 5:00 PM

Sunday

Closed