When you're looking for a dependable car, it only makes sense to go home in something from the new Ford lineup.
Available at Ben Davis Ford, our new Ford options can send you home behind the wheel of everything from efficient sedans to versatile SUVs, high-performance pickup trucks, and more. Serving drivers from Angola to Fort Wayne, our dealership has a wealth of vehicle options suited to people of all different sorts.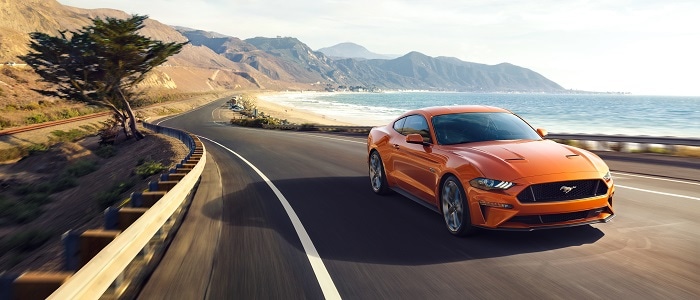 Check Out our Selection of New Ford Cars and SUVs
Are you an Angola driver hunting for a new sedan or coupe? Our new Ford inventory includes some of the industry's best. The Ford Fusion is one of the most versatile sedans on the market, with trim and engine options that can offer everything from superior performance output to efficient driving. And if you're looking for something exceptional? The Ford Mustang delivers high performance driving combined with a classic sense of style.
If you're searching for an SUV, the Ford lineup includes some of the market's best. We can offer you everything from small models like the Ford EcoSport to larger, more robust options like the Ford Explorer and Ford Expedition. These versatile SUVs are equipped to handle everything from everyday errands to camping and more.
High-Performance Pickup Trucks are Waiting in the Ford F-Series Lineup

If you feel like a truck might be more your style, the Ford lineup also includes some of the best pickup trucks on the current market.
The Ford F-150 has been a longtime standard setter for the truck segment and has only grown more impressive in recent years thanks to an innovative redesign. With a lighter chassis, excellent feature options, and some of the most powerful powertrains in its segment, it's raised the bar.
Fort Wayne drivers hoping for more will likewise find excellent options in Ford's selection of bigger trucks. The Ford F-250 builds on the F-150's offerings with a bigger chassis and engine options that can dish out up to 935 pounds-feet of torque. That adds up to a towing ability of nearly 34,000 pounds, more than enough to tackle even the toughest jobs you can think to throw at it. The Ford F-350 goes even further, providing a peerless driving package that can handle just about anything.
Contact the Sales Team at Ben Davis Ford Today
Would you like to know more about the new Ford inventory at Ben Davis Ford? Reach out to the Ford-brand experts at our Auburn, IN dealership. We'd love the chance to tell you more about everything our new vehicle lineup has to offer.
Not only can we tell you more about our new Ford cars, but we can also connect you to finance options that can make the vehicles you're interested in more affordable. Don't hesitate to get in touch with us today and let us know what you're looking for. We're sure we can help you find something that delivers on the experience you deserve.