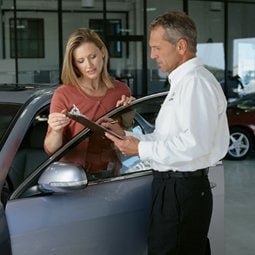 Get the Service You Need for Your Ford Vehicle Near Garrett, IN
Your Ford vehicle is built to handle the open road with confidence. However, even the toughest vehicles need routine service to help ensure they are prepared for the rigors of the open road. That is where our team comes in. Not only do we have a reliable and dependable team of service technicians available to assist you, but we also have access to the latest technology. Therefore, you can trust your vehicle will be handled with the care and precision it deserves, whether you live down the road or are visiting from Kendallville.
No matter if you need something as simple as an oil change, or something more extensive, our team will be here every step of the way. We can even help answer any questions you may have about the purchasing process. Plus, with our service coupons, you can save money on the services you need.
Why Routinely Service Your Vehicle?
So, why is routine maintenance important? Firstly, many aspects of your vehicle need to be attended to on a routine basis. For instance, oil changes, tire rotations, and battery checks all are important to complete at specific intervals. Bringing your vehicle in for service on a routine schedule can be the best way to ensure your vehicle remains versatile, reliable, and safe on the road.
Tire Service
Your tires are vital to the health of your vehicle. Not only do they allow your vehicle to move, but their health is directly tied to your vehicle's safety and capabilities on the road. Whether you need something as simple as a wheel alignment, a tire rotation, or something else, our team will be here to assist you every step of the way.
Battery Service
Your battery is another integral aspect of your vehicle. Not only does it control the electrical components in your vehicle, but it also is part of what allows your vehicle to start. That is why it's vital to make sure your battery is serviced when it needs maintenance.
Oil Changes
Every driver will experience getting their oil changed. Not only is it a common service, but it's also one of the simplest you will get for your Ford vehicle. Oil changes also help protect your vehicle's longevity.
FordPass
With the FordPass app, you can access different components of your vehicle. For example, you can remote start your model using this app. Additionally, you can easily lock and unlock it, check on your vehicle's status, and much more.
Ready To Learn More?
If you would like to learn more about our selection of vehicles, or if you have any questions about servicing your vehicle with our team, feel free to visit us at Ben Davis Ford Inc., located in Auburn, IN and serving drivers in Hamilton, IN. Our team would be proud to help answer any questions you may have about the maintenance process.
Visit us at your next opportunity and we can help answer any questions you may have about the purchasing process.
We are proud to serve drivers in Fort Wayne, IN and Hicksville, OH.