Schedule Ford Service in Auburn IN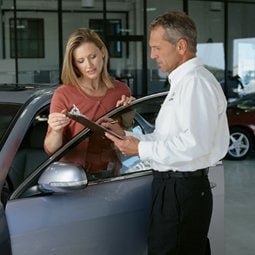 Up and down the many roads and highways of greater Fort Wayne, across the many miles of our northeastern stretch of Indiana, there's a lot that can happen. One weekend, you could be taking the kids to check out the Children's Zoo, headed afterward to Parkview Field to take in a game. The next, your battery dies, your engine quits, maybe an indicator light like Check Engine activates on the dash, followed by some other issue. In any case, you're suddenly on the hook for more than tickets and lunch fare.
Explanations for car trouble can be many. Factory schedules require regular maintenance, for one; fall behind on a safety check, computer diagnostic, or timing belt repair or replacement, and problems can arise. Highway hazards can put forks in your trip's road; when heavy traffic doesn't otherwise result in the occasional fender-bender, Mother Nature, taking her toll on dirt, gravel, and concrete alike, can also take it on your vehicle. This, and every auto part can just plain wear out eventually, whether it's a brake light, tire pressure monitor, spark plug, or otherwise.
What's it all mean? Every vehicle, car or truck, SUV or van, new Ford F-150, used Ford, or an off-brand model, eventually needs some form of auto service. But we also know that here in the expanse between Columbia City IN and Angola, life's busy. You probably don't have much time to spend waiting on the phone over in Kendallville IN or in a service lane queue waiting to see if there's a spot open. That's where our Ford service center in Auburn comes in.
Service Your Car, Truck, or SUV with the Pros at Our Ford Dealership Near Fort Wayne
We make scheduling that service appointment, for one, a lot easier than most. You can do it here on our website. That's the case whether you're behind on factory service, you need a more complex car repair, or you just need a diagnosis of what's going on, having noticed something isn't quite right with your ride. Just plug some details into our intuitive form, and we'll have you in a bay under the care of an expert service technician in no time.
Moreover, you'll be in skilled hands for your visit. Our staff is one of the most highly trained around, equipped with the industry's latest state-of-the-art tools and technologies, not to mention years of experience in all things automotive behind them. So, whether you need your engine oil and filter changed, tires rotated, brakes changed, suspension and alignment adjusted, transmission repaired, or otherwise, you can count on us. We'll get the job done with distinction, and utilizing only genuine Ford auto parts and accessories to do it, something garages and body shops in and around Auburn that don't specialize can't necessarily do.
Before you visit, if you'd like to talk shop regarding car service or get to know more about the many Ford parts and accessories we stock or can get for you in a jiffy, feel free to call us or e-mail using our website's contact form. Otherwise, we'll see you soon here at 400 South Grandstaff Drive!